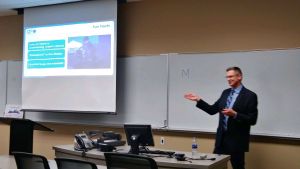 Today at the 2019 Chicagoland Health, Safety and Environmental Conference, I had the honor of speaking to a large and diverse group about "Building the Winning Ergonomics Team!"
Topics of my talk included
Leadership
The global competitive playing field
Common approaches & failures
Top Coaches 
Why ISO 45001 & PtD are important
Employee empowerment & Ergonomics improvements
Types of teams
Winning is fun
My talk included many examples of successes I have had the privilege of being involved with, from my first days as an Ergonomist at Alcoa, to my consulting work over the past 25-years!
These successes span nearly every industry and helped to improve employee health and safety, product quality, employee productivity, and the profitability of my clients.
Call directly at (847) 921-3113, email me at info@qp3ergosystems.com to get started building YOUR winning Ergonomics team!
(For more information on QP3 ErgoSystems, a Leader in Risk Consulting, click here!)