I posted a simple poll recently that asked "Where does safety begin at your company?"  Four options were provided: At the CEO's desk, During the design phase, During installation, and At the start of the shift.
Of those responding, the results were quite interesting.  While it was only possible to select one option, no one chose "at the start of my shift."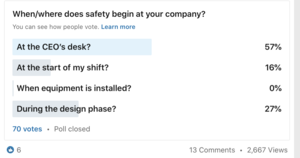 After working with many clients and for leading companies, I believe each answer has its rightful place in just about every company. How can that be so, one might ask?  Please let me explain.
The CEO
My first professional position in Environmental, Health and Safety was at Alcoa's Warrick, Indiana Ops from 1992-1994.  The CEO at the time was the late Paul O'Neill.  He was not shy about focusing on injuries and illnesses in the company's operations around the world.   He followed up on his commitment to safety by literally firing senior executives who didn't take him seriously.   Nor was he afraid to bluntly tell investment bankers who asked about "inventories," "If you want to know how Alcoa is doing, look at our lost workday case rate."  His focus on safety as a key metric, and his expectation that the entire company do so as well also helped the company turn in amazing financial results.  He was so hands-on, that if a facility did not report its monthly injury and illness records on time, he would task his secretary to call them and ask where the numbers were.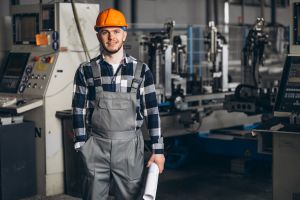 During Design
Safety also begins during the design phase, and is an integral aspect of ISO 45001, under the auspices of "Prevention through Design." That said, I still come across companies, even those who are leading their industries, where process designers may create an incredibly sophisticated and efficient process, but which may also detrimentally affect the people who operate and/or maintain the equipment.
During Installation
When new equipment or processes are installed, the new equipment should be reviewed for inadvertent EH&S issues that may be able to be addressed prior to final installation and validation.  I recently reviewed a brand new manufacturing cell at a globally recognized company.  Unfortunately the engineer had designed-in an ergonomics issue that no one recognized during the design phase, and he was not polite when I attempted to explain the issues it would bring to their production employees.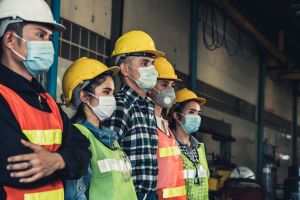 When My Shift Starts
But safety also begins at the beginning of each shift.  Don't employees inspect their tools and equipment prior to beginning work?   Do they inspect their fall protection, respirators, or other essential gear, etc., etc.?
When (and where) safety efforts begin is about a person's perspective and requires a 360-degree view of risk.  It is also "trickle down."  If the CEO doesn't care, why should anyone else?  And if the CEO does care, they're only one person. The CEO cannot be "everywhere" to help each employee start each shift, or be involved in the design or installation process.  Thus, we cannot expect only one person to do it all, but the CEO is also in the driver's seat when setting goals, expectations and variable compensation metrics.
Safety at a company begins with the CEO.  Safety begins during design.  Safety begins during installation.  And safety begins at the start of each person's shift.
Our team of consultants has worked both for and with clients of all types, and with CEOs, Designers, Installation Crews, and Shift Employees and Supervisors.  Contact us today for more information!