Do you have employees working from home and are they reporting issues? If you are in California, do you have an IIPP–and are you following it?
According to a recent conversation I had with Cal/OSHA, if a work-from-home employee reports a physical issue from work, files a workers comp claim or sees a doctor who prescribes an assessment or new workstation equipment, then a company is required to perform a hazard assessment of the workspace, per the IIPP requirement, and implement any recommendations.
This is important to know, and should not be limited to California.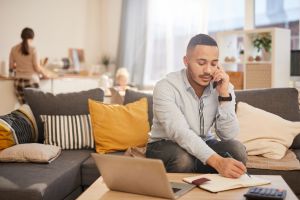 If someone is having problems working at home, even temporarily, a company is obligated to conduct a hazard assessment (remote office evaluation) and address any findings.  Because companies ARE obligated under the General Duty Clause to provide a workplace free of recognized hazards.  Even for work-from-home employees.
Our team of Ergonomists at QP3 ErgoSystems spans the U.S., and we are ready to help your employees feel (and work) better, whether in a regular office or at home.  Contact us at info@qp3ergosystems.com, follow this link to order an assessment today, or call directly at (847) 921-3113 for additional details.