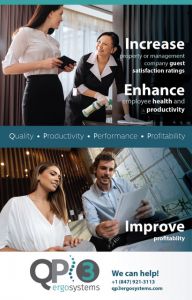 Do you operate or work in a hotel (or a hotel management company with properties) in California?  Time is running out for your property(ies) to complete the required 2019  Hotel Housekeeper MIPP assessments and training.
Cal/OSHA requires that every hotel and lodging establishment (including Inns and B&Bs) in California must conduct these assessments and training each year, no exceptions.  We have conducted hundreds of MIPP assessments and trained thousands of housekeepers.  We're the best!
Our assessments find the risk factors that affect housekeeper health and safety–and we find work procedures that can also affect guest satisfaction ratings.  We often find things that others may not.
Even if you are not in California, we will apply the same methods and techniques to help your property improve, your housekeepers feel better, and make your guests happier.   Contact us today and we will come to your property and help you!
Click here for more information, and to contact us today!